For those of you that have never played SET® before, SET® is a fast-paced game involving 81 unique cards with different combinations of four characteristics (color [red, green, or purple], shape [diamond, oval, or squiggle], shading [hollow, shaded, or filled], and number [1, 2, or 3]). The point of the game is to find as many 3-card "sets" as possible. If the three cards are either all the same or all different in each of the four characteristics, you know you've found a set. Twelve cards are presented on the table at a time, and are continually replenished when a set is taken out, until no cards remain in the deck. Sometimes, however, there are no sets in the twelve cards, in which case 3 more cards are dealt. But, how do you know if there really is no set? I aim to solve this problem using image processing software and eventually create a set recognition mobile application.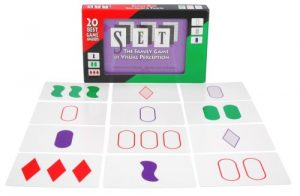 So, what determines a set? Let's take the example below (although it is probably one of the most difficult sets in the game). Looking at the cards in terms of the four characteristics, we have the following: color – red, green, and purple (all different); shape – diamond, oval, and squiggle (all different); shading – filled, hollow, shaded (all different); number – 1, 2, 3 (all different). If the cards were exactly the same, but all red, this would also be considered a set, because, in terms of color, they are all the same.
There's the simplified breakdown of how I used an image processing algorithm to determine sets from ordinary jpeg images:
Step 1: Convert the image to black and white and invert the image to calculate the number of shapes per card
Step 2: Compare the pixel surface area of one of the symbols on each card to determine the shape
Step 3: Normalize the RGB color of the images with an equation to figure out the color
Step 4: Convert the images to gray scale and apply a border detection to determine the shading
Step 5: Run the simple algorithm that deduces the sets
For more details, check out the paper I wrote.